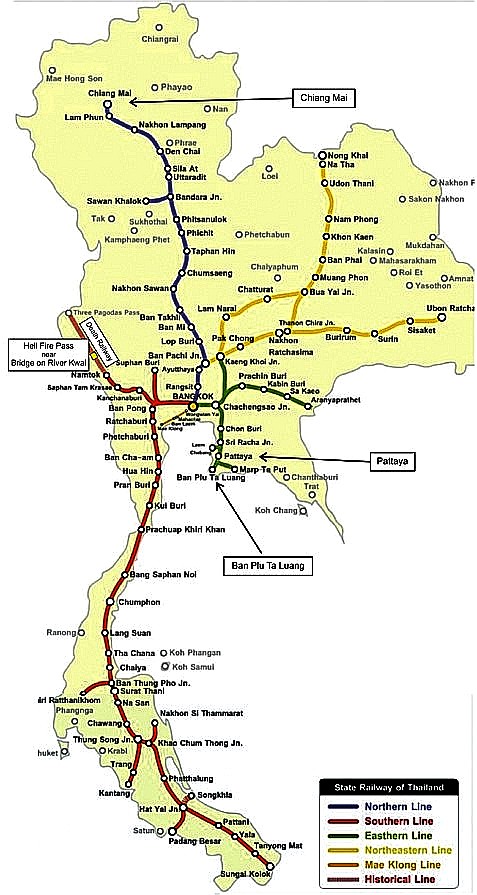 Traveling by railway system is definitely a chill way to get around Thailand. It is safe, cheap and comfortable. The most important of all, it is environmentally friendly.
The railway is divided into standard lines and Eastern & Oriental Express.
Standard lines: It is composed by Northern Line, Southern Line, Northeastern Line, and Eastern Line. The transfer knot is located in Bangkok. Notice that passengers may take Southern Line traveling to Singapore with a cheap price, but it takes 48 hours to arrive.
Eastern & Oriental Express: Derives from Europe, Eastern & Oriental Express is designed to provide luxurious experience for customers traveling between Bangkok and Singapore. The train is equipped with lounge bars, leisure facilities, and luxurious room. And therefore, the price is much higher than standard railways.
For standard railways, besides different lines, it is also divided into different classes, such as express and city trains.
Express train is mainly for long-trip passengers, some of them are even equipped with pullmen and independent bathrooms. And depending on theintermediate stops, the price differs from the numbers of time. And about city trains, it is only available in some big cities, stopping at specific stations only. Therefore, there is no pullman on the train.
Passengers may buy the tickets on spot or online. Notice that credit card is not acceptable for on spot purchase, thus you should prepare enough cash for it. For online booking, passengers may book it through the official website, credit card is acceptable, but beware of the transaction fare for international payment. And here is a small tip for you, you may print your ticket in advance so that you can save time on queuing for collecting tickets. The printed ticket is the same as the real train ticket. The booking period is 60 to 3 days before the departure day. Notice that the staff will check your ticket on the train, so don't lose it or it might cause you trouble.
For more info: http://www.railway.co.th/Home/Index
Passengers may also book the ticket through:https://www.thairailwayticket.com/eTSRT/default.aspx?language=1