A refreshing drink is a must when sightseeing under the sweltering summer heat . Today , we are going to show you 6 common drinks you can buy at the streets of Thailand . Cool yourself down with these fulfilling thirst quenchers below !
1 . Thai Iced Milk Tea
Meet Thai Iced Milk Tea , the staple drink of Thailand . Served in almost every Thai restaurant , it is usually the top-ordered beverage , being well-liked by guests . Its base is Thai black tea , mixed with condensed milk , crushed ice , spices , sugar and surprisingly , a bit of food coloring to give it an orange look . Satisfy yourself with a glass of creamy , fragrant Thai Iced Milk Tea while you spend your time exploring delicious local eats .
Note : You can buy a 3-in-1 Instant Thai Tea Mix at the Big C supermarket . Click here to find out what else to buy at Big C !
2 . Pomegranate Juice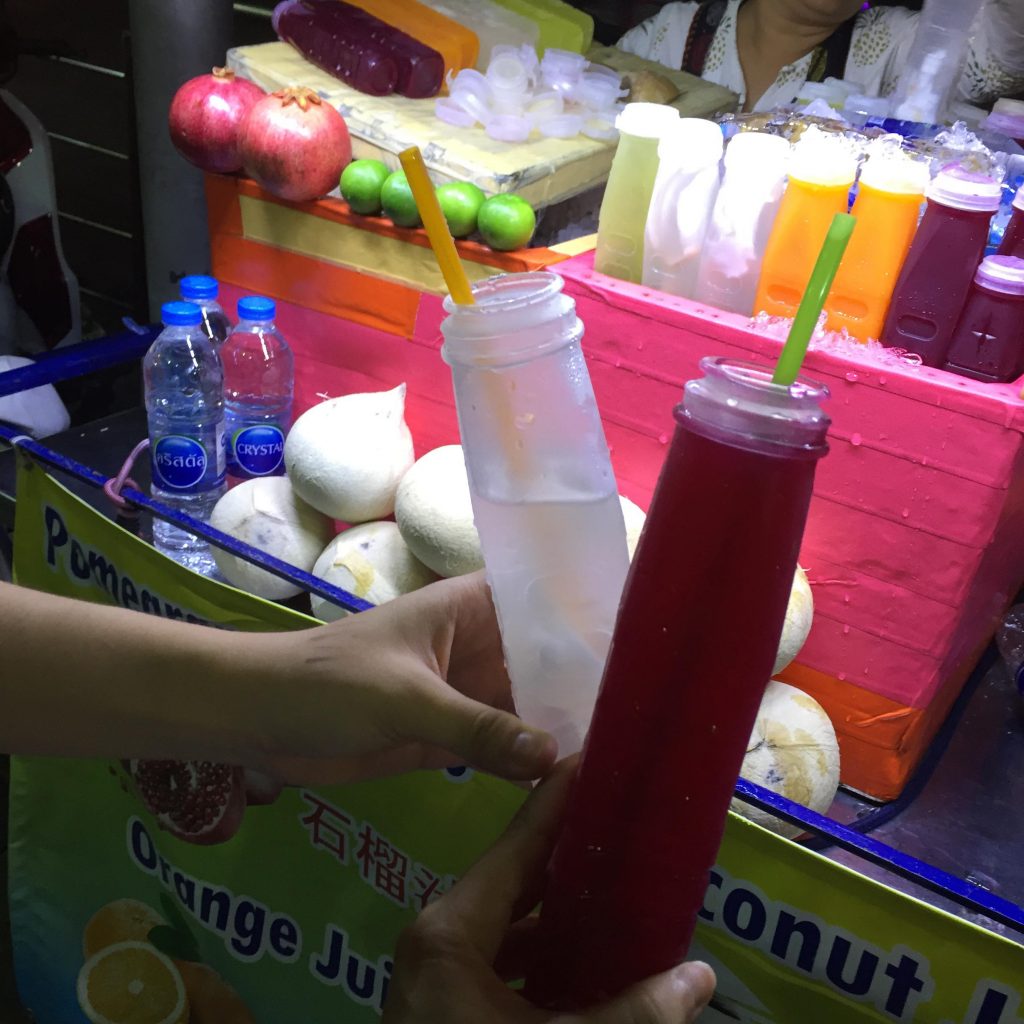 Who says fresh juice always has to be green and full of spinach ? Pomegranate juice is a healthy and flavorful exception that you can easily find on the streets of Thailand ! There are plenty of benefits of pomegranate : its high levels of antioxidants and of vitamin c , improves memory and digestion , prevents heart disease , Alzheimer's and cancer … etc. It's a great option to add into your daily diet ! Just make sure it's 100% pure and unsweetened .
3 . Coconut Water
Cool yourself down with some refreshing coconut water ! It is one of the best sources of minerals in nature and its bioavailability is second to none . Low in calories , rich in potassium , and cholesterol free — a perfect drink for those who wants to keep fit and stay hydrated . You can get a coconut at any fruit stall , simply stick a straw into it and start drinking . Quick , easy and delightful . Never end your Thai journey without a sip of coconut water !
4 . O-Liang
O-Liang , known as Thai Iced Coffee , is a popular traditional Thai beverage . It's a blend of Thai coffee , chicory , and green cardamom , sometimes topped with condensed milk to add an extra flavor of sweetness . They also sell O-liang coffee mixes in supermarkets if you want to skip the hassle but still get a taste of Thailand back home . A must try for all coffeeholics .
5 . Grass Jelly Drinks
Quench your thirst with the grass jelly drinks in Thailand ! Grass Jelly is a common dessert popular in China and South East Asia with a slightly bitter taste . Other than its unique flavor , it also contains health benefits such as soothing your throat , lowering blood pressure , treats fever and weight maintenance . Plus , it's a great remedy for heatstroke . It's usually served chilled as a drink topping , so you can select your choice of filling from juice , milk , tea or whatever you like . Beat the scorching tropical heat with some grass jelly drinks !
6 . Thai Beer
Thai beer is what makes Thailand a paradise for global drinkers , since it's cheap but with amazing flavors . Some of the best beer brands in Thailand are Singha , Leo , and Chang . Discover the hoppy , earthy , citrusy flavors by trying them all out ! Next time you have a late night chat with your buddies , don't forget to grab a few bottles of Thai beer !