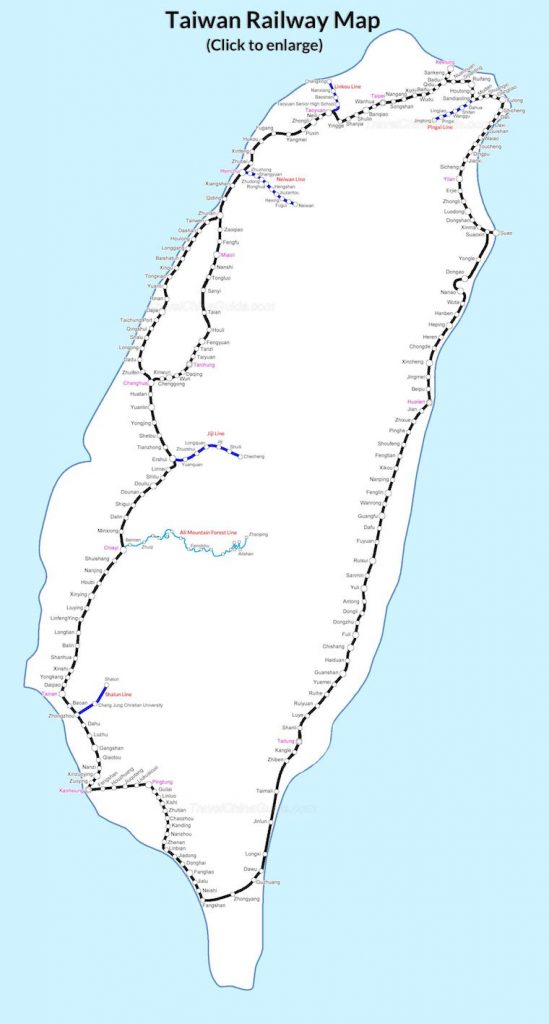 Taiwan Railway Administration (TRA) has a round island network, it is one of the most convenient way to travel around Taiwan. And since English can be seen on the map, and be heard on the train, it is a lot easier for foreign passengers to be aware when to get on and off the train.
Local train: Local train is one of the most common one as it stops at nearly every stop. As long as you take the right direction, you will be able to get to your destination easily, probably even without transferring. However, since it stops frequently, the duration to your destination will be a lot longer than other class of train. Plus, since it is not available to book the seat in advance, you probably have to stand all the way to your destination.
Limited Express: Limited Express is a class that has stops limitation, but on the other hand, it is indeed faster, and thus more expensive than the local trains. Among limited expresses, they can be further divided into different types of trains. And unlike local train, passengers may book the seat in advance to secure a place on the train.
Tickets: For each class of train, passengers may buy the tickets either online or on the spot. You may also book a seat in advance in case there's no seat available for limited express. However, since the ticket is required to present when exiting the station, you should definitely take care of it. If you lose the ticket, you will be asked to pay the equaling fee again.
Easycard: Easycard is available for local train, and some of the limited express. In this case, passengers do not have to spare another time to book or buy the tickets in advance. However, notice that some of limited express train require passengers to have a seat, thus tickets are mandatory.
TR Pass is a great option for those who would take trains frequently in a short period of time. There are lots of different options to choose from, you may check them through the link provided below. And it has no district limitation nor limitation on number of times before the expiration date. Notice you should buy this pass at the counter, and still need to buy the tickets when needed.For more info: https://www.railway.gov.tw/tra-tip-web/tip/tip003/tip311/view10
For more and detailed information: https://www.railway.gov.tw/tra-tip-web/tip?lang=EN_US